"Keep Your Children Home on Day of Silence"
Below is a statement issued by the ACLU, emphasizing the limits of political activism during instructional time:
"You DO have a right to participate in Day of Silence and other expressions of your opinion at a public school during non-instructional time: the breaks between classes, before and after the school day, lunchtime, and any other free times during your day.
"You do NOT have a right to remain silent during class time if a teacher asks you to speak."
**This site, sponsored by pro-family groups listed below, is for the sole purpose of giving parents the tools needed to oppose the GLSEN-sponsored Day of Silence.
The Day of Silence, which is sponsored by the Gay, Lesbian and Straight Education Network (GLSEN), fast approaches. This year it will take place in most public schools on April 23, 2021. On this day, thousands of public high schools and increasing numbers of middle schools will allow students to remain silent throughout an entire day – even during instructional time – to promote GLSEN's socio-political goals and its controversial, unproven, and destructive theories on the nature and morality of homosexuality.
Parents must actively oppose this hijacking of the classroom for political purposes. Please join the national effort to reclaim a proper understanding of the role, and limits of public education. Help de-politicize the learning environment by calling your child out of school if your child's school allows students and/or teachers to refuse to speak during instructional time on the Day of Silence.
Parents, Teachers, and Administrators: What to Do on Day of Silence
Reasons for the Day of Silence Walkout
Sample Call Out Letter (This is a download link - download and save the word document)
Grove City College Professor's Misguided "Golden Rule Pledge"
Questions and Answers for Kids about Homosexuality
Keep Your Kids Home on Homosexuality-Affirming "Day of Silence"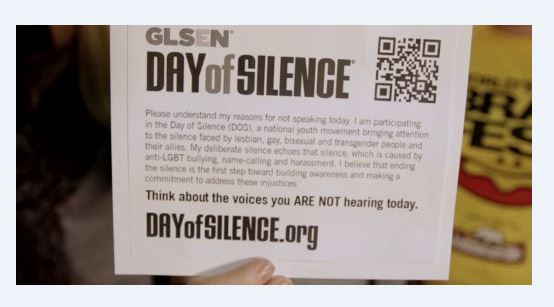 Should Christian Children Be Expected To Do What Christian Adults Do Not
Progressive Educators' Dreams for Other People's Children

---